Reminders
In this version we've added the ability to set reminders on messages. This provides a better way to manage work that follows from messages and comments received in the activity feed.
The reminders feature is also consistent with our multi-party collaboration model, so customers and partners can also be brought in seamlessly to a reminder-based workflow.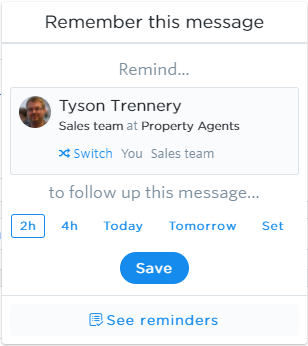 Key features
Create reminders inline from each message in activity.
Choose the reminder date. Use the simple presets or set any date/time.
See a prompt for your upcoming and later reminders in the rundl details summary bar.
Create multiple reminders per message, if you need to get reminded twice or a few people need reminding.
Advanced features
Hosts can assign or see reminders for any participant in their rundls, allowing them to both manage and moderate to-dos for themselves, and their customers or partners.
People using Rundl for work (group accounts) can see or assign reminders internally to anyone in their own team when participating in any rundl.
Tasks view
Work users also get the new task management view. It provides a time-sequenced to-do list for working to a schedule.
When someone is sick or on leave or just too busy, team members can pick up the slack with advanced filtering of reminders for any colleague, team or combination.
Also respond to messages inline. Simply click a reminder target to load the message in-line in the sidebar, respond, and move on to the next task.
Future
Right now we've just started with reminders on messages. In future we'll add reminders for other core rundl items, such as steps. However, the main goal is to couple reminders with a new core item, "Tasks" (coming soon). While setting reminders on messages supports scheduling of reactive-type work, tasks will allow scheduling pro-active work.
Other changes
Pinned messages
Messages can now be pinned in a rundl. Pin favourite or important messages for easy access later. This means less scrolling through activity to come back to something.
Pinning is restricted to hosts, but any participant will see the pin for any message they have permission to see.
File versioning
File versioning is now available on enterprise accounts. Hosts can meet record keeping obligations with a full history of changes.
General
Automated add-on activation in services by managers.
Team names now unique in a group account.
Rename files in stored in rundl files. NOTE: Renaming creates a new version. If shared in activity, the file version is locked in to that message for consistent record keeping. Share file again to change file name in a message attachment.
Removed files (i.e. Bin/Trash)
Draft and published files.
User middle name.
Group tax registration number, company name.
Type ahead search now requires at least 2 characters before query runs.
Refresh activity button. No need to refresh the whole page to get latest.
Rundl name in sticky header is now clickable to allow return scroll to top.
Send notification option on steps status change off by default.
Default participant context via group setting applied automatically when loading a service order submitted by a group.
When starting a rundl, choose a context is remembered. No need to choose each time.
YouTube video field now handles more types or URLs and strips non-standard URL parameters.
Popups jump up into view automatically when loading near the edge of the screen.
Gravatar.com profile pics can be turned off on user profile.
Use different accounts in different browser tabs. The current account will be consistent in the current tab. A new tab will get the last selected account by default.
Add a participant (+ button) direct from the Participants summary in the rundl details sidebar.
API
Standard pattern for nested resources in API types.
Actions syntax for standard PUT requests.
Standard cursor pagination pattern.
Performance improvements, particularly in requests, accept orders, get service instances and get activity. Full nested links, files and reminders on each message for single API call per message. Also further client side caching when suitable.