If you're using Google Chrome or other Chromium-based web browsers, you may need to approve downloading files from Rundl.
The first file you download from Rundl works, but on attempting to download the next file there's no response.
1. Look at the top right in your browser in the Url bar for an alert.

2. Click on the alert, choose Always allow https://go.rundl.com to download multiple files.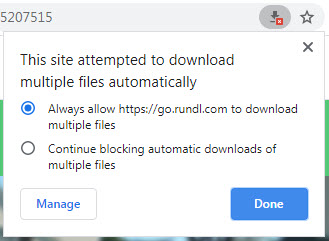 3. Click Done.
Try again to download the file and it should now start successfully.